FREQUENTLY ASKED QUESTIONS
What's all the fuss about End Grain Chopping Boards?
---
An end grain cutting boards surface is up to one and a half times harder than a standard "face grain" cutting board alternative. The orientation of the woodfibres mean that a knife will slide between fibres rather than cutting them. This means the board surface will last longer and you knives will stay sharper for longer. Regular treatment with our Oil and Wax will cause the board to "self-heal". This will impel the wood fibres to close together around most scratches on the surface; almost bringing back the original surface finish.
---
How long does it take to make a bespoke chopping board?
---
If we have the material in stock we can process an order in 2- 3 weeks. We are able to make boards quicker than this. The minium time is 3 days as we need to wait for the glue to dry before we can finish the boards.
---
How do you make End Grain Chopping Boards?
---
It is a lot easier to show you! Please watch the video below. There are also more video across the website and on the about page.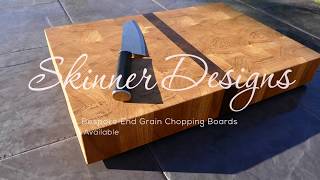 ---
How long does delivery take and cost?
---
We use DPD which offers 1-2 day delivery. We aim to dispatch within two days. Depending on the item postage starts at £8-£16.
---
I would like my chopping board engraved. How does this work?
---
Easy! Just add our custom engraving option found in accessories along with your order. Just fill in all the relevent information and we will then be in touch to discuss ideas and designs.
---
When will my order arrive?
---
We aim to dispatch your order as soon as possible. As we are a small business we sometimes find it hard to get order out same day. Expect your order to ship 1-3 working days. We ship via DPD and use text message alerts. We also offer international delivery. Please get in contact for a quote.
---
I would like to order a bespoke piece of furniture with you; how does this work?
---
Please send us an email with your design request and we will be in touch with you as soon as possible.
---
Not found an answer to your query?
---
Please contact us via email at info@skinnerdesigns.co.uk. We will be happy to answer any further questions you may have.
---
---